Ariana Grande (Full name Ariana Grande-Butera) is an American singer and actress. Ariana started her singing interest on stage performing when she was a child. Her notable voice of singing high pitch in her music has let many critics comparing her with Mariah Carey. In June 2017, Ariana has already released 3 albums ever since she started her music career.
Personal Background
Ariana Grande was born on June 26, 1993 in Boca Raton, Florida. Her father, Edward Butera, is a graphic designer and her mother, Joan Grande is a businesswoman. Before she was a teen, Ariana has taken interest on singing and acting, performing in a local theater scene. When she was 15 years old, she took the role of acting career in Charlotte in the Broadway production of 13. That is where her first breakthrough to her career.
Acting Career
Before she became a pop singer, Ariana started off acting in one of the Nickelodeon TV show called Victorious in 2009. She played the role of Cat Valentine in a sitcom high school drama. She has co-starred with Victoria Justice in the show. The show was premiered in March 2010 and has hit with 5.7 million views on the series on Nickelodeon. When Victorious was ended in 2012, Ariana's character Cat Valentine has seen to have the spin-off with other series in Sam & Cat, co-starring iCarly's Jennette McCurdy. The show didn't last long as Ariana is more focus on her music career rather than her acting.

Ariana Grande and Victoria Justice (Source: Seventeen)
Music Breakthrough
In 2013, Ariana has released her album, "Yours Truly" and debuted at number one on the US Billboard 200. Her first single, "The Way" has debuted as Top 100 of the Billboard Hot 100 in the year 2013. Another year later, Ariana has released her second album "My Everything". The album was sold 169,000 copies in the first week. Ariana released her single "Problem" featuring Iggy Azalea has debuted at No.3 on Billboard's Hot 100. Later that year, Ariana has been featured with Nicki Minah and Jessie J on the single "Bang Bang".
In 2016, Ariana has released another album Dangerous Woman. The track debuted at number 10 on the Hot 100 in March. Bang, You Go Girl!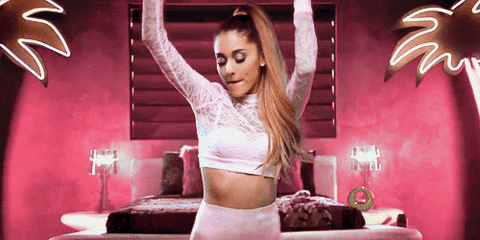 Notable Music by Ariana Grande
You can check out her music channel here.